7th Generation Family Farm - USDA + PCO Certified-Organic -  501(c3) nonprofit
Our Mission: to Model and Teach Sustainable Farming, Build Community and Reconnect People to the Land
Currently the only visitors permitted at Snipes Farm are CSA members for their brief veggie pick-up on Thursdays and Farm Market shoppers (all are welcome!) on Saturday mornings.  Our goats, bunnies, chickens, and ducks will be glad for a little visit at those times. The staff of Snipes Farm practices strict CDC protocol for Covid-19, and visitors are required to wear masks and to respect social distancing as well. Please find our Snipes Farm and Education Center Facebook page for updates, inspiration and ways to support our nonprofit programs.
Farm Market at Snipes Farm on Saturdays!
Our farm market is open on Snipes Farm on Saturdays this summer from 9 am-12:00 noon, Rain or Shine! Come shop for our delicious veggies and our other products at the Big Red Barn! During your visit to the market, we encourage you and your family to visit our chickens, rabbits, ducks and goats! Please wear masks, supervise your children and observe proper distancing from other family groups for everyone's safety. Unfortunately, we are not able to open our playground, due to State Covid-19 health regulations. Snipes Farm is a beautiful place and we invite you to enjoy it safely!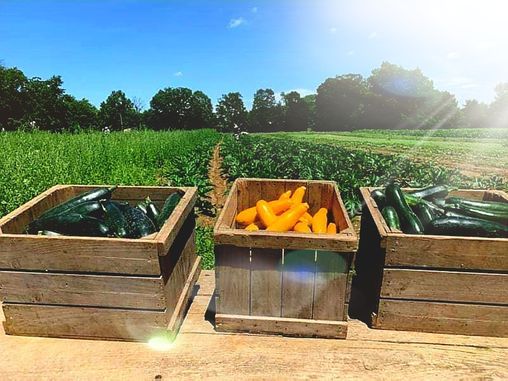 Farm Summer Programming for Children and Families
After Farm Camp was cancelled for the season, we wondered what parts of camp we could continue in new ways. Cooking, singing, service and friendship came to the top! To learn about Farm Camp Cooking@Home, the 45-Day Camp Song Challenge, Wacky Wednesday Farm Hellos, volunteer opportunities and our new Farm Camp Community Facebook Page click here!
Pastured Meats, Eggs and Dairy come to Snipes Farm!
We have formed a partnership with Miller's Biodiversity Farm. They are purveyors of top quality grass fed meats, dairy products and more. Please check them out on their website  www.millersbiofarm.com Starting NOW you can log on and create your own account with them to be picked up here on Snipes Farm at the CSA! First day for Millers Bio Farm pick up is June 25! Orders are due the Sunday before the pick up. So log on now to check them out! 
CSA 2020 has begun!  Thursdays from 3 pm to 7 pm!
If you have purchased a CSA share and did not receive your email with instructions, please check your spam folder.  If you have Gmail, it may show up in your Promotions folder.  If you still can't find it, please email me at education@snipesfarm.org so that we can update your email address.  You can also check our page outlining pick-up instructions and Covid-19 information Click Here   Thank you!
 
5/12/2020 UPDATE:  * * * * * OUR 2020 SUMMER/FALL CSA SHARES ARE NOW SOLD OUT! * * * * * But if you would like to be placed on a waitlist, please Click Here to leave us a message.
THANK YOU FOR YOUR AMAZING SUPPORT!