Farm Field Trips at Snipes Farm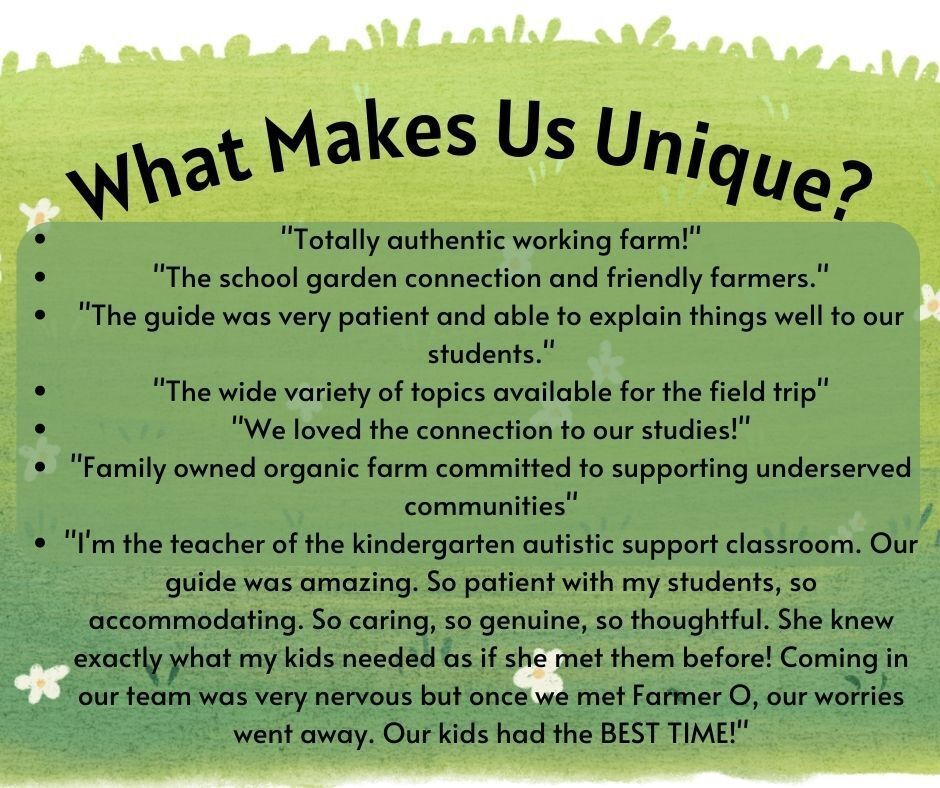 SCROLL DOWN TO RESERVE A SPRING & SUMMER FIELD TRIP 2024
Let a field trip to Snipes Farm be the hands-on extension to classroom learning where nature is the teacher. Students learn about food from seed to snack, the power of pollinators, sustainable farming and stewardship, woodlands, creek and meadow ecosystems.
Set on 80-acres of our beautiful historic farm students, teachers and parents explore and learn together.
Choose a 90-minute or 2 1/2 -hour reservation. We design a custom tour of lessons based on curricular needs for ages Pre-K-12th grade. Enjoy lunch and recess on the farm!
Fill out the form below or contact us at odalism@snipesfarm.org
Additional notes: 
*Fall dates include mid September, October and Early November
*Spring dates Late April- May.
**Blueberry season: Late June - Early July
*Blackberries season 2nd week of July - 1st week of August
**Additional time on the farm may require a fee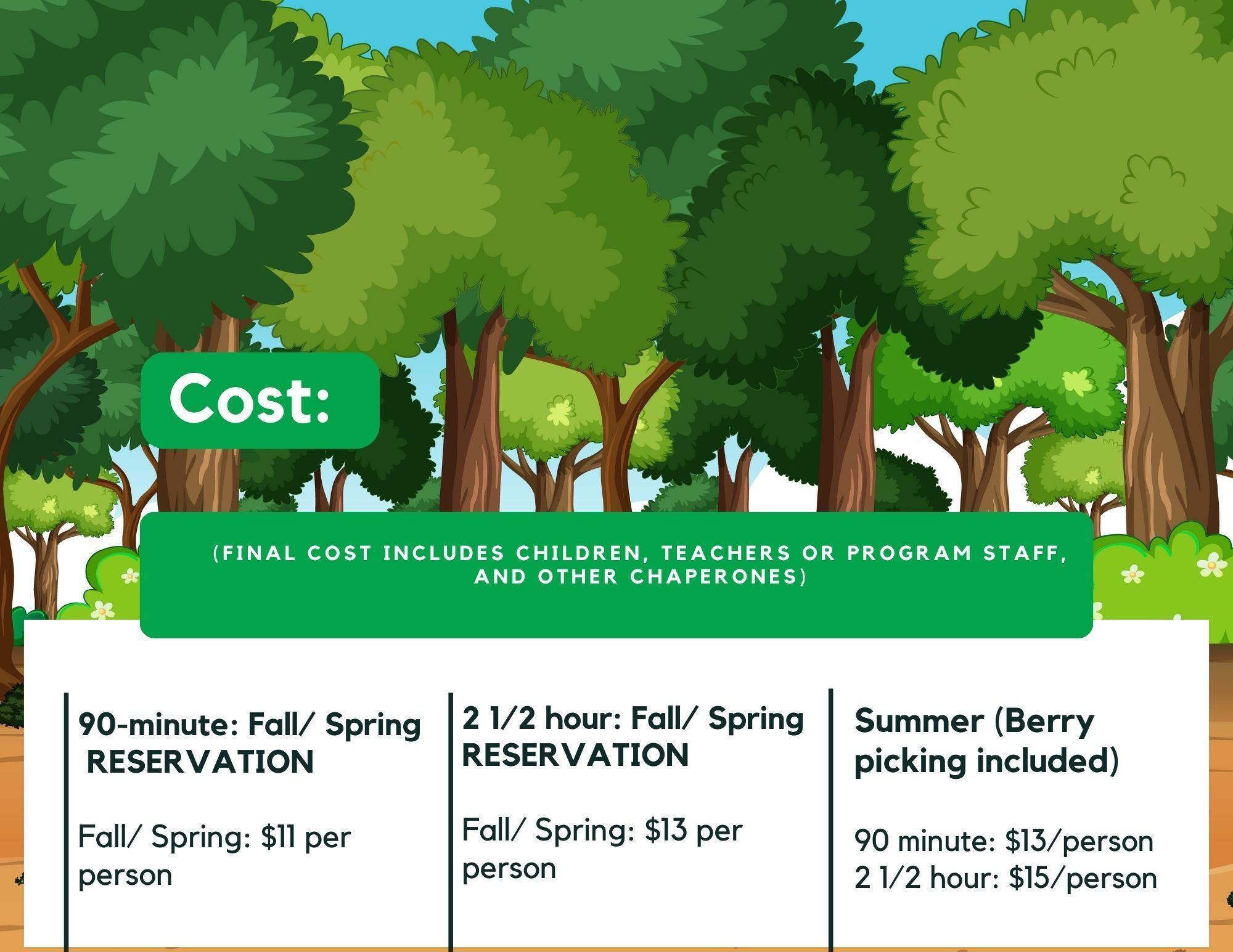 PLEASE Fill out Field trip request form HERE
Farm Animal Friends

Meet our bunnies, goats, chickens, quail and ducks. Let's learn about anatomy, daily life and care of these special animals.

Food from Seed-to-Snack

Go on a journey to learn about where food comes from. From seed to greenhouse to field to snack. We'll use our senses to explore plant shapes, sizes, colors and textures, enjoy herb fragrances and flavors and harvest something yummy to taste.

Ol' Time Farm Museum

Be dazzled by antique carriages, wagons and sleighs. Step back in time through stories and photos to learn about the 7 generations of the Moon/Snipes family who continue to live here and care for this special farm. Learn about the power of a horse and how horses have been essential to helping us to do work and to travel.

Where the Wild Things Are

Explore the beautiful woodlands through our nature trail. Find habitats and learn about the life cycle of a tree from seed to sapling to stump. A STEM flash challenge can give students a chance to build simple structures in teams out of natural materials or fairy houses depending on the age.

Busy Bees and Pollinators

See our bee village (apiary) and learn about the amazing life of the bee-every student will take a role in simulating a hive! Explore the meadow and see this ecosystem of native plants that provides homes and food for many different pollinators. We are in awe that 3 out of every 4 bites of food are thanks to these critters!

Birds of a Feather

Take a walk through the meadow to our new bird blind! The farms forests, hedgerows and ancient trees are home to many birds that over-winter and pass through on their annual migrations. Learn about song birds and birds of prey and adaptations that help them to make homes, to find food, to sing and to fly.

Care of the Earth

Here at Snipes Farm we are dedicated to taking good care of the land and waterways. Learn about the teaming life in the soil, composting, native plants, stream projects and regenerative farming practices that are helping us to do our part for a sustainable future.
In addition to your field trip lesson...
Please stay and enjoy our Barnyard playground and bring lunch or a snack to enjoy on the Farm. Please let us know if you plan to stay for lunch or a snack. Consider a pizza lunch (not available in the summer):
1 slice of pizza, cider and chips: $6.00 per person
2 slices of pizza, cider and chips: $8:00 per person
PLEASE Fill out Field trip request form HERE
Rules & Guidelines
All tours are by reservation only, and must be made in advance.
Minimum group size: 15 paying visitors.
Two teachers are admitted free per class of at least 15.
Parent Chaperones are welcome to be part of the field trip but will be included in final invoice. 
All are welcome! We can adjust a program to accommodate students with special needs. Please specify your groups special needs when placing your reservation and we will follow up with a call to explore the details.
Bilingual tours are available in Spanish/English.
We highly recommend students and staff bring a reusable water bottles that they can refill at the farm during their visit to the farm. 
We always hope there will be sunny and pleasant weather. If there is any question about the weather, we will confer the week of to make appropriate plans accordingly. Though we have several covered spaces for activities and to have if needed, we can not host field trips in rain. 
It is essential that students dress properly for the weather. It is always better to have an extra layer than not enough. Sneakers or boots are highly recommended. Please encourage students to not wear their favorite or new clothes. 
There are 4 picnic areas available for your group to enjoy their lunch. We do require every group to take the time to sort their waste into trash, compost and recycling which our staff will demonstrate. 
We want to make your visit to Snipes Farm and Education Center a safe and happy experience. A trip to the farm is a trip to the country! Not all walking surfaces are level, smooth, or paved. Please keep this in mind when preparing your group for their tour.
If your group is staying longer than the reserved time, there could be an extra charge. ($1 extra per child for each additional hour on the farm)
Please help us to provide the best programs possible by responding to our brief on-line evaluation after you have come for your trip. Thank you!