Snipes Farm Brings Hunger Relief to Bucks County and Trenton with its Fresh Produce Programs
Snipes and its partners distribute bundles of fresh fruits and vegetables to seniors, low-income families, the disabled and others at no cost to them.
Morrisville, PA
September 1, 2022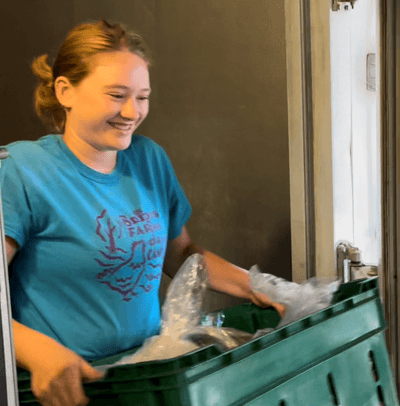 Snipes Farm summer staff, Hana Sparks-Woodford, loads the delivery
"Do you mind if I take it right now?"
Jonathan Snipes had just entered the parking lot of a senior center in Bucks County, his truck groaning with its load of fresh produce, when an elderly lady politely asked this question.
She barely waited for an answer before hauling a bag filled with Snipes Farm organic vegetables off the truck.
That kind of enthusiasm and need, Jonathan said in a recent interview, is a driving force behind the Snipes Farm & Education Center's Hunger Relief program, which was begun in 2008, the year the nonprofit Center was founded.
In 2008, the farm delivered 10 percent of the fruits and vegetables grown on its Morrisville Farm to people who need it most but can ill afford to buy it.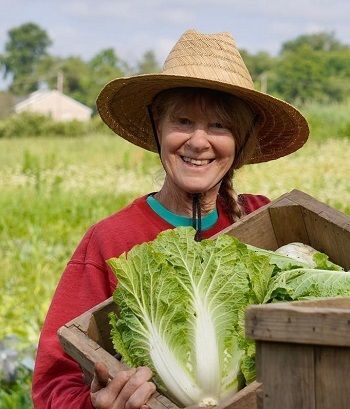 Victoria Lautsbaugh, director of farming at Snipes, displays a hunger relief harvest.
Today, Snipes Farm and its community partners deliver 70 percent of the farm's produce to food pantries, senior centers, housing projects, homeless shelters and serving low-income, disabled and otherwise disadvantaged people in Bucks County, PA, Trenton, NJ and beyond.
"These opportunities are growing more and more in these challenging times," said Jonathan, who is executive director of Snipes Farm & Education Center. "Our community partners help us reach far and wide throughout the region to distribute fresh food to those who need it most."
Asked if the Hunger Relief program was an outgrowth of the Quaker values deeply held by him and his sister and co-owner Susan Snipes-wells—and long cultivated on their 7th generation family farm—Jonathan indicated they are simply doing the right thing.
"It's a general human value," he said. "We all need to take good care of the Earth, its people and all living things. Local fresh food is not just for people who have money to spend—it's for everyone."
Today, Snipes Farm & Education Center, a nonprofit whose mission is also to bring people back to the earth with its education programs about nature and sustainable farming, serves hundreds of people every week through 13 senior centers in Bucks County (all of them), 4 senior or subsidized housing projects in Trenton, the Bucks County Emergency Homeless Shelter, RWJ Barnabas Health, Meals on Wheels, its Interfaith partners, the Girl Scouts and other Hunger Relief community partners.
Snipes also runs a year-round Farm Market on Saturdays in the Big Red Barn on its 150-acre farm off Bridge Street in Morrisville, a hop skip and a jump past the toll booth heading south on Route 1 from Trenton, NJ.
The program is supported with grants, donations and time volunteered by dozens of community groups, churches, foundations, state and local governments, and generous individuals.
One of its earliest partners was the Trenton Health Team, which saw the potential for Snipes to address the serious issue of urban food deserts like New Jersey's capital city, where access to fresh good, especially for low-income, seniors and the disabled, is hard to come by.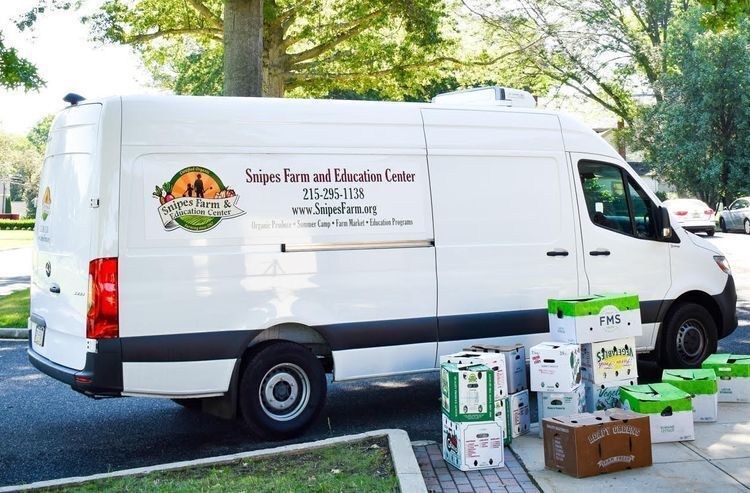 The Snipes Farm & Education Center's refrigerated, produce-delivery truck makes a Hunger Relief stop at Rutgers University for Mercer County Meals on Wheels.
Through the Trenton Health Team's NowPow program, for example, people can refer needy individuals with diabetes to the Snipes Fresh Produce Project, enabling them to receive fresh fruits and vegetables in Trenton free of charge very Friday for 8 weeks starting September 2. In addition, they can receive free support and counseling in managing their diabetes. (To make a referral, call Jessica Burnett at 609-256-4159 or Saisum Scheff at 609-789-0465)
As Jonathan and the farm team at Snipes continue their Hunger Relief efforts, they can be assured their efforts will be welcomed by the recipients of those efforts.
One day when making a delivery to a Trenton housing high-rise, Jonathan recalled being hailed. He heard a distant voice but couldn't see who was calling him. He looked around, then up. There, on a third-floor balcony, stood an elderly woman eagerly awaiting her share of fresh produce.
"Thank you so much for the veggies," she said.
"What do you do with them?" Jonathan asked, craning his neck to see her.
"I am making a delicious soup," she replied.