---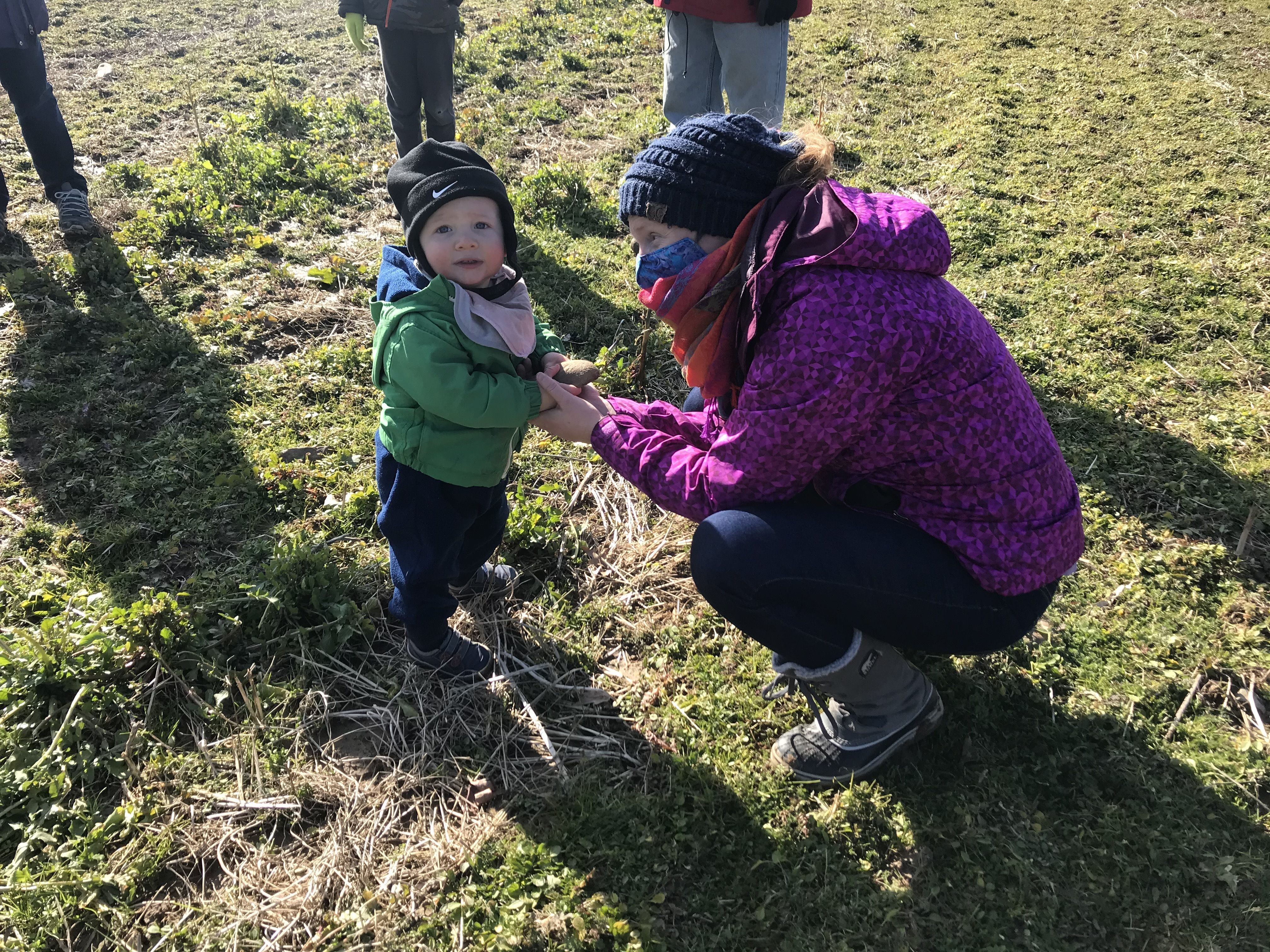 Little Sprouts for children 2-5 to attend with their parent or caregiver. 
LIttle Sprouts is now full for the Winter Season. If you have any questions about the course, Please reach out to Nicole Kissinger at  littlesproutsnicole@gmail.com
Little Sprouts fosters a love of nature in young children as they explore and make discoveries through each season on the farm. Children and their grownups engage in activities to deepen awareness and appreciation of stewardship and farm life.  Nicole Kissinger brings over 20 years of preschool and hands-on teaching experience to this special program.  
The outdoor classroom includes: woods, gardens, creek, greenhouses and fields. Empathy and compassion are gained through the care and responsibility of animals. Through the program children deepen in skills and understanding of:
Social-emotional well-being
STEM
Literacy Fine and gross motor skills
Creativity
Music
It's time for Little Sprouts Friends to register for our next session! What a wonderful gift to give to your child for the holidays. It's also a great gift to share with your family, because let's be honest, none of us needs more "stuff" in our home. Think of how happy your loved ones will be to see your beautiful children's pictures each week from class. It's the gift that keeps on giving... well at least for 8 weeks.
Winter Little Sprouts? Are you crazy? It's cold, there's snow, and have you ever had to chase a toddler around with a pair of gloves? Yes, all those things can be true. However, there is an amazing Nordic School of Thought known as Friluftsliv. This concept revolves around open air living in all types of weather. 
Sorry folks, all sessions are sold out, please keep an eye out for Spring Session!
Class will run January 11 -  March 2 on Tuesdays from 10:00am - 11:30am.
Week 1: January 11 and 12
Week 2: January 18 and 19
Week 3: January 25 and 26
Week 4: February 1 and 2
Week 5: February 8 and 9
Week 6: February 15 and 16
Week 7: February 22 and 23
Week 8: March 2 and 3 
Because of the nature of winter and unpredictable snow amounts, I will release the themes each week. We will explore the winter wonders of the farm , we will participate in winter science, art, movement and messy play. 
It is a rain-or-shine program and we ask that everyone dress for the occasion. If there are any days where the weather is just too inclement and we feel the need to cancel, a make-up class will be scheduled.
Please sign up below and make sure to tell us the names of everyone attending in the details section of the payment form.  
Thank you! We'll see you soon!
Please contact Nicole Kissinger with any questions or concerns: littlesproutsnicole@gmail.com
---
Snow Bunnies

Making Syrup

Fun in the Leaves
No items are currently configured.