---
2021 Community Education Virtual Classes & Events
Join us for a class or event this year to gain new skills, and connect to the farm and our mission in new ways! Proceeds from our classes help to support our nonprofit work to grow food for families in need, scholarship local children to Farm Day Camp, and provide educational programs to low-income schools. 
Registration is required.  Please register below.
---
---
Saturday Feb 20th 11-12:30pm or Wednesday Feb 24th 6:30-8pm Sorry, these classes have been SOLD OUT
---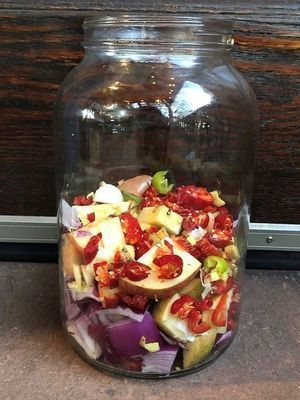 Saturday March 20th 11-12:30pm
Making Fire Cider at Home
Join the farm's herbalist, Charlotte for a live zoom class on strengthening our immune systems with kitchen herbs and spices - Making Fire Cider!
Fire Cider is a tonic with deep roots in folk medicine that was brought to popularity by the American herbalist and author, Rosemary Gladstar. Fire Cider uses vinegar as its base, instead of most herbal tinctures, which use alcohol. Fire cider has been used traditionally to support and strengthen our immune systems, and help ward off sore throats, colds, flu, chest infections and congestion. It can also be taken as a tonic, every day, to support your body in fending off COVID-19. Since it takes about 4-6 weeks for this extraction to happen, this is the perfect time to begin a maceration of fire cider.  In this class, Charlotte will teach you everything you need to know to make your own fire cider at home. You will learn about the medicinal qualities of the plants within the formula, a history of fire cider, basic herbal extraction lessons, the importance of traditional foods and remedies, recipes and ideas how to incorporate this tonic in your home, and full directions on how to make fide cider at home anytime.  This class is 100% DIY and materials will not be provided, but you will receive a full list of items to purchase before hand to make your own fire cider at home. Participants can either follow along with self bought items, or watch and learn to make your own fire cider at a later date!   
The cost is $20