CSA MEMBERS PLEASE NOTE:  Due to recent weather events, our first CSA pickup on the farm will be Thursday June 13th. This one week delay will be offset by adding one week onto the end of the CSA season. Meaning that the CSA will end November 21st NOT November 14th. CSA pickup is 3-7 each Thursday!
---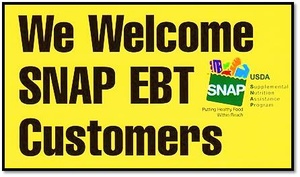 Sign up now for your 2019 Veggie CSA Share!
The 2019 CSA Share season is 24 weeks long, from Thursday, June 13th to Thursday, Nov. 21st. 
NOTE, the 2019 CSA share season will start June 13th due to poor weather. This delay has been offset by adding a week onto the end of the CSA season. The above dates are the updated and accurate dates.
Our crops are PCO and USDA Certified Organic
Traditional Full Share: $700
Each week members get 1/2-1 bushel of produce from a selection of 8 to 12 items chosen by the farmer.
Traditional Half Share: $400
Members pick up a full share every other week.
Market Share Levels: $700, $500, $400, $200
Members can select veggies of their own choice. Market share members will receive a Market Card with the value of their share on it. They will then use this to purchase their produce. Market cards may also be used for farm-fresh eggs and other products when available. Market cards may be used at Snipes Farm CSA barn on Thursdays or at Yardley Farmers Market on Saturdays beginning in May, 2019.
---
Egg Share

Our delicious eggs are laid by healthy happy hens! They are fed soy-free organic grains, are pasture raised and free range. There is no comparison to the taste and nutritional value of our fresh eggs. You are welcome to tour Cluckingham Palace to meet the flock! 
Egg Shares for January 10, 2019 through May 30, 2019
$126 - 1 dozen eggs per week (21 weeks)
$66 - 1 dozen eggs every other week (11 weeks)
$189 - 18 eggs per week (21 weeks)
$99 - 18 eggs every other week (11 weeks)
Pick up on the Farm Thursdays, 3-6pm
Egg Shares for June 6, 2019 through November 21, 2019
$150 - 1 dozen eggs per week (25 weeks)
$78 - 1 dozen eggs every other week (13 weeks)
$225 - 18 eggs per week (25 weeks)
$117 - 18 eggs every other week (13 weeks)
Pickup on the Farm Thursdays, 3-6pm
*Due to low egg production, our egg shares are temporarily not available for purchase. Any egg shares already purchased will be fulfilled.
---
Fruit at Snipes Farm
If you purchase a Market Share then you can use your prepaid member card towards fruit, jams, Mighty Cider and other special items throughout the season.  Keep this in mind when deciding which share level is right for you.  If you purchase a Traditional Share then all of these items will be available to you for cash purchase.
Fresh naturally grown fruit straight from the farm! 
Our Fruit Calendar:   
Blueberries – mid-to-late June through mid-July
Blackberries – mid-July through August  
Raspberries – mid-August through mid-September 
Depending on Mother Nature, we may have frozen blueberries or blackberries available at various points during the season.
Pick-Your-Own-Apples – Early-to-late October 
Our orchard has many different varieties to choose from throughout the season.  Early-Mid October:  Red Delicious, Golden Delicious, Stayman Winesap, Jonagold, Empire, Melrose, Ida Red, Keepsake, Royal Court, Crispin, Honey Crisp, Fuji.  Late October:  Rome

Our apples are different.  You won't find apples grown like ours on any other farm in Bucks County or the surrounding area. We do not use pesticides or chemical sprays in our orchard, therefore, our natural apples may have spots and not be grocery-store perfect. They are, however, the most delicious, healthy apples you'll find anywhere.
---